We decided to make a surprise visit to Pa. to visit my Mom during the kids' Thanksgiving vacation. The kids were sworn to secrecy for several days before our trip. We decided to leave at night and drive straight through for the 10 hrs. that it would take us to get there. The drive was nice with no bad weather. The kids slept on and off during the trip. We got to see some huge snowflakes in Va. and a little more snow in W.Va. :)
We arrived at our destination really early in the morning. We stopped at the hotel and then headed over to my Mom's apartment building. You have to dial her phone so that she can open the door for you--now remember, she had NO idea that we were coming! We dialed her number and when she answered little sister said "Hi Grandma!" ....there was dead silence. I told my husband to say something quickly before she hangs up not knowing what was going on. On the other end, Mom was trying to click on her TV monitor to see who was calling her. By then my husband said " Hi G** ... Are you going to come down and get your family?" ...again silence...and then she saw us on the monitor and she started screaming....sort of like the TV commercials where they tell people that they've won 10 million dollars! It was perfect!! When we finally got upstairs, she was waiting for us. It was so wonderful to see her!!
My sister invited us to eat Thanksgiving dinner at her house. I can't believe how big my nephews have gotten! It was so nice to see all of them again.
Here's the gang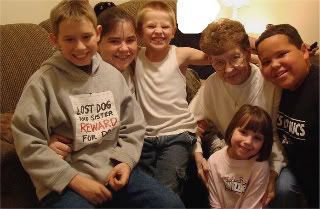 Little sister and Aunt "K"


This little guy decided to talk to me. Is he cute or what?!?
It was great to see all of my family again! Hopefully it won't be as long the next time until we visit again!